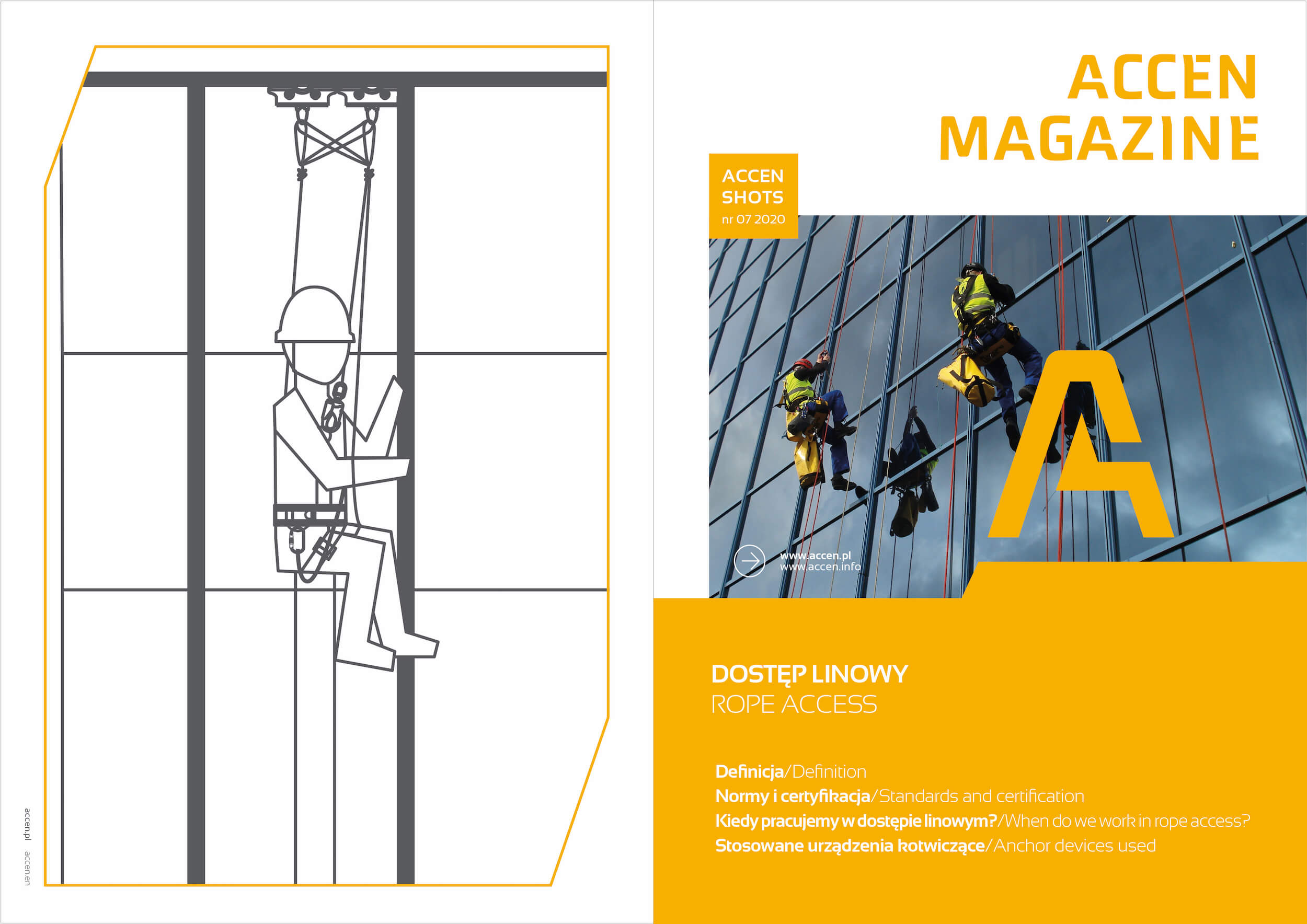 DOSTĘP LINOWY – ROPE ACCESS
11.09.2020
Rope access is a type of work at height carried out in a suspension or in a support. It was created through the use of climbing and cave techniques for industrial work. During such works, a two separately anchored and coordinated line systems are used – one for carrying out works and one for safety. These systems are used in conjunction with a harness and other devices to move on the ropes.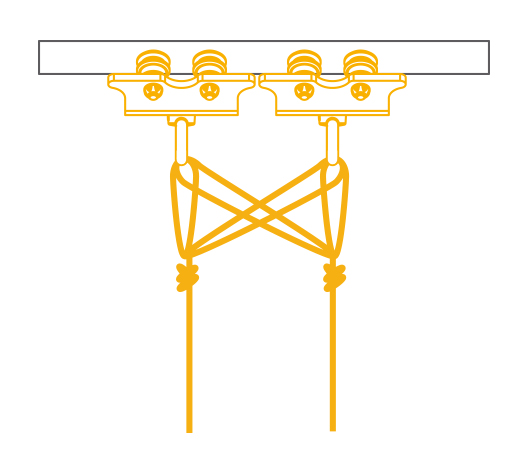 01 Standards and certification
The main difference between climbing, cave and industrial techniques is the equipment used, which must comply with the relevant standards defining their use in work at height.
– Safety harness – EN 361, EN 813. Also recommended EN 358
– Protective helmet – EN 397, EN 12492
– Lanyards – EN 354 or knotted EN 892
– Descender devices – EN 12841 type C. Rescue EN 341 type A
– Belaying devices – EN 12841 type A or EN 353-2
– Clamping devices – EN 12841 type B, or EN 567
– Ropes – EN 1891 type A, or EN 353-2
– Connectors -EN 362
– Anchor devices – EN 795 (except type C)
Safety harness with hip harness for suspension work.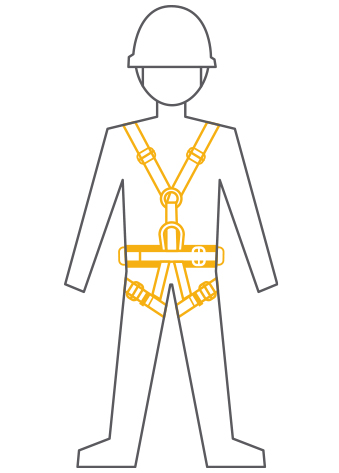 Persons carrying out work as rope technicians must have received appropriate qualification training in rope access techniques and rescue rules. The most popular system defining the rules of work in rope access is the international association IRATA (Industrial Rope Access Trade Association).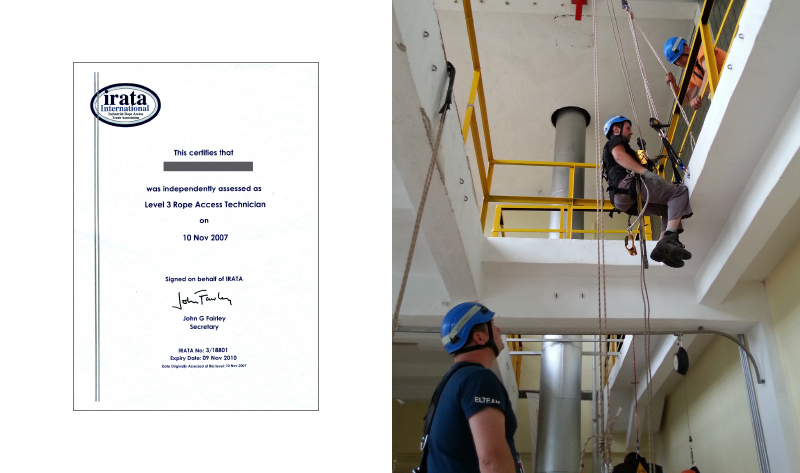 02 When do we work in rope access?
Rope access works are performed wherever it is economically justified, i.e. where conventional methods such as ladders, lifts, scaffolding and others are relatively expensive in relation to the size and scope of the work. It is an excellent solution for reaching places that are difficult to reach or inaccessible for standard techniques of working at height. Rope access is widely used, among others on drilling platforms, in industrial plants, construction.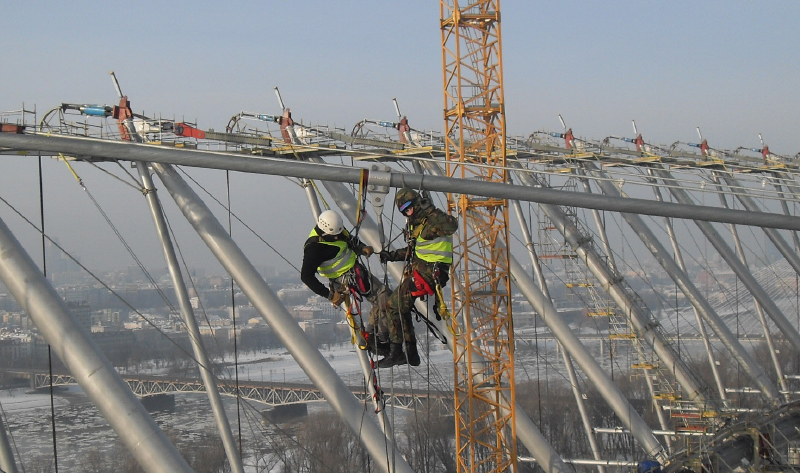 03 Anchor devices used
In places where work is performed regularly, special anchoring devices are installed to facilitate work in the suspension. Such objects are e.g. buildings that require periodic maintenance work related to window cleaning or glass replacement. Following systems are perfectly suited for rope access techniques:
– anchor points (Trax Light, Trax Duo-Duplo)
– safety rail (AccenRail)
– FAS facade access system.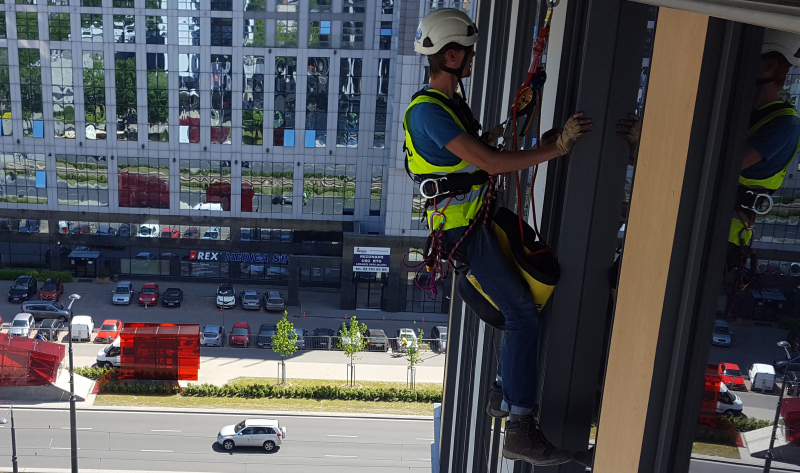 TRAX LIGHT
TRAX LIGHT points are designed to be used as a fall arrest anchor device for three persons simultaneously.
Depending on the type, they are dedicated to the concrete substrate with a minimum class C20/B25 and to steel structures, I-sections, and channels with a minimum wall thickness of 5 mm.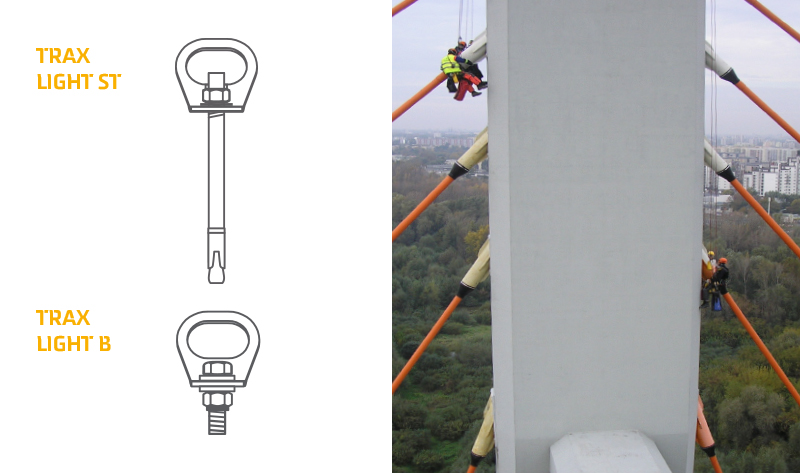 TRAX DUO/DUPLO
The Duo / Duplo ST anchor point is an anchor device fixed to steel with a minimum thickness of 5 mm, and Duo / DUPLO B to concrete with a minimum class C20/B25. DUO / DUPLO points are intended for attaching personal protective fall arrest equipment for up to three people. DUO / DUPLO anchor points meet the requirements of EN 795: 2012 type A and the CEN / TS 16415: 2013 Technical Specification. The anchor point is available in two versions, DUO and DUPLO, which have the same properties, are installed in the same way and differ only in appearance.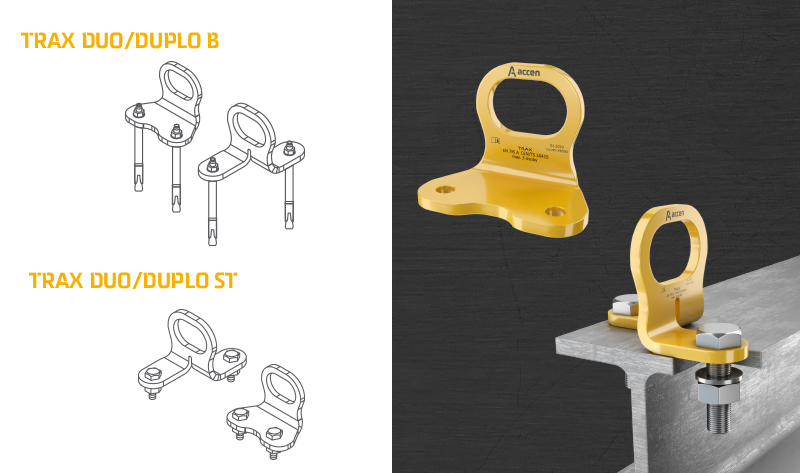 ACCEN RAIL
The Accen Rail safety system is a special rail that acts as a guide on which a safety trolley with low friction coefficient moves. It is intended for use as a fall protection system and a façade access system. It works perfectly as a suspended system securing workers in depots of rail vehicles, buses, halls and warehouses, silos and loading points for tanks, wagons, etc. It is also successfully used as a safety system mounted under cranes, machines and technological lines. In facade access systems, it is an excellent solution to perform work related to cleaning glass elements or glass replacement. Made of anodized aluminium resistant to extreme corrosive conditions, variants it can be painted in any RAL colour. It can be installed directly into the structure or with system brackets. Due to its small size, the Accen Rail perfectly blends into the facility on which it is installed.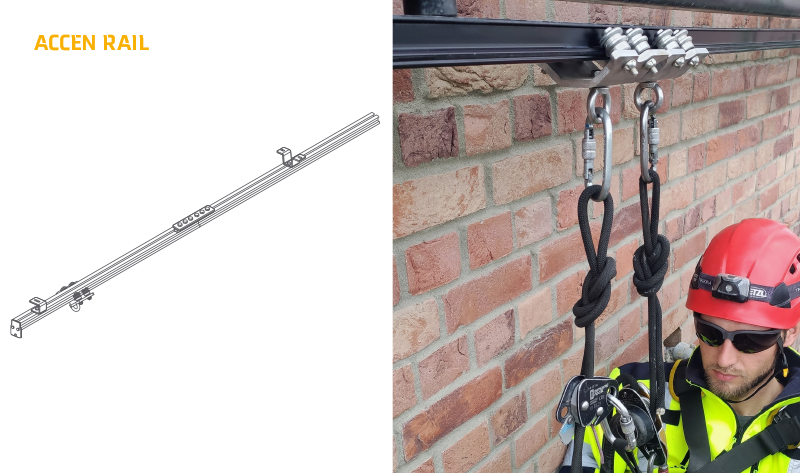 FAS – Facade access systems
FAS – are special anchor devices designed to work at height using rope access techniques. The structure of the entire system allows for safe work on the facade of the building thanks to the use of booms that protect the edges of the attic walls together with the flashing. It works perfectly on buildings when carrying out works related to façade maintenance, such as cleaning, repairs, replacing glass, and applying one vision foil.
The FAS consists of seats and booms that act as a guide and rope extraction for an employee descending on the elevation. The seats are permanently anchored to the attic or ceiling. Every time during the work, the boom is placed on a seat that is permanently anchored to the building structure. FAS is a system solution tested for compliance with the PN-EN 795:2012, 2012 standard, therefore it does not require additional design and technical documentation or calculations. All fastening elements of the safety and working rope system transmit forces of at least 12 kN without deforming them, the booms can be statically loaded up to 3 kN.